Dooars at the foot hills in East Himalaya is famous for its forests & tea gardens. Its reach wild life attracts a number of tourists every year. It also offers lush green valleys, meandering rivers & cultural aspects.
The Dooars is the door to visualize your dreams with an open eye, thy Dreamy Dooars. It is the gateway of Bhutan with multiple passages (as many as 18) as the connection with the plains, a green belt around the famous foothills of the Eastern Himalayas. Dooars is split between two regions as Eastern & Western Dooars by Sankosh River, as eastern being the Assam part and western as the Bengal territory of Dooars.
Dooars Facts & Figures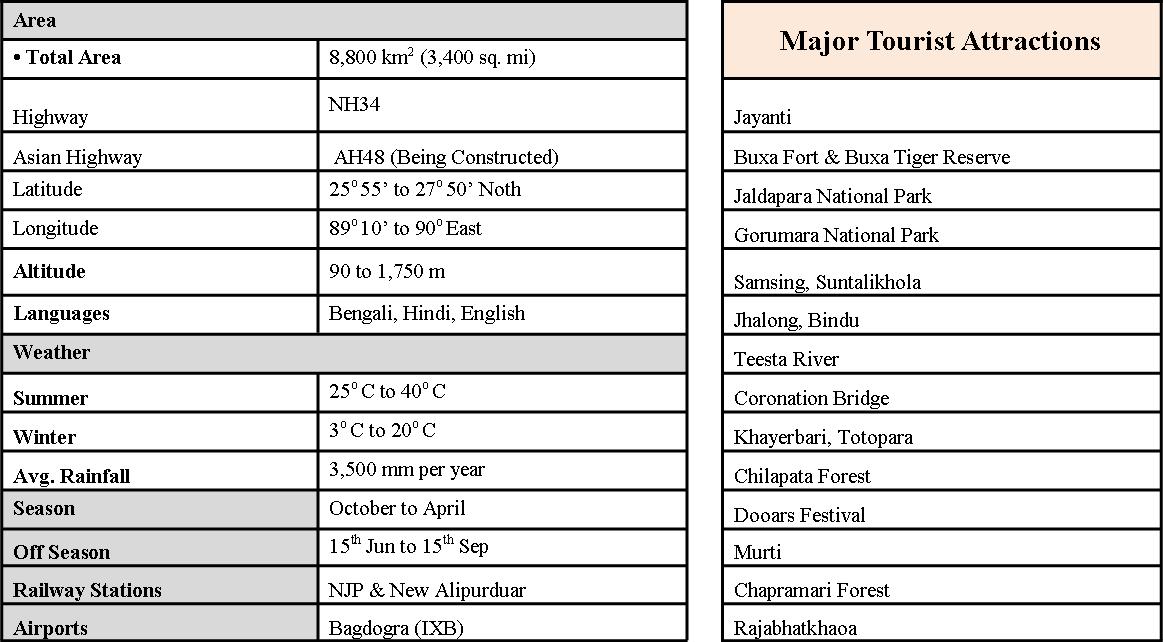 To See
Major Tourist Attractions
Jayanti: Jayanti is a mesmerizing spot in Eastern Dooars along the strolling Jayanti River forming a natural border with beautiful Bhutan hills Jayanti is a place to escape from the urban crowd and curb the exhaustions. Buxaduar to Jayanti is another popular trek in the region. The Mahakal Cave of Jayanti is the major crowd puller.
Buxa Fort : Buxa Fort is located at an altitude of 870 meters (2,850 ft) in the Buxa Tiger Reserve, Alipurduar district, of West Bengal. It is 30 kilometers away from Alipurduar town. The King of used the fort to protect a part of the Silk Route connecting India with Tibet through Bhutan. With its rich history, Buxa Fort is one of the famous tourist destinations including the trekking gateways.
Rajabhatkhawa : Rajabhatkhawa is a small town situated in Eastern Dooars just outside the Buxa Tiger Reserve in the Alipurduar district of West Bengal, India. It is known for its natural beauty, surrounded by forest.
Cooch Behar : Cooch Behar the dist town of Cooch Behar district in West Bengal is the only planned city of North Bengal with royal heritage & rich history. It was declared a heritage town. The Cooch Behar Palace, Madan Mohon Temple, Sagar Dighi are some of the important places to visit in Cooch Behar.
Rasikbill : Rasikbill (Rasikbeel) is situated 40 km away from Cooch Behar town. Bill in Bengali means a large water body. It has been recognized as a bird sanctuary. Birds like common teal, lesser whistling teal, cotton teal, dapchick, pheasant-tailed janacana, bronze winged jacana, shoveler, white-eyed poacherd, barheaded goose etc. can be seen in Rasikbill. It also has a mini zoo with spices like gharial, tortoise, spotted deer, leopard, peafowl etc.
Jaldapara National Park : Jaldapara is a national park situated a in Central Dooars in northern part of West Bengal. The Torsa River flows through the national park. The park houses largest population of the one horned Indian rhinoceros in the state. Leopard, , sambar, elephants, hog deer, wild pigs, spotted deer, and barking deer are some of the other animals available in Jaldapara . Jaldapara is also famous for birds. Rare spice like the Bengal florican has been spoted in Jaldapara. Crested eagle, shikra, Finn's weaver, Pallas's fish eagle, peafowl (peacock), jungle fowl, partridge, and lesser pied hornbill are some of the other spices available here. Monitor lizards, cobras, kraits, geckos, water turtles and Pythons can also be found in Jaldapara. Madarihat is the nearest subdivision. Tribes like Toto, Mech, Ravaa used to stay in this area before 1800. You can still find Toto tribe in a place called "Totapara".
Khayerbari : Khayerbari Animal Rescue Centre is approx 12km. away from Madarihat. It is mainly known for rescuing Leopards & Royal Bengal Tigers. Khayerbari animal rescue Centre specially rescues the animals which get banned from various circuses and shows.
Chilapata : Chilapata is a forest near Jaldapara National Park in Central Dooars, Alipurduar district. It is about 22 km away from Alipurduar. The forest houses a large no of one horned Indian Rhinos & rich in wildlife. Leopards are pretty common in this area. One of the main attractions is the ruined "Nalraja Garh", or fort of the Nal kings, built in the Gupta period in the fifth century.
Gorumara National Park: Goumara is a National Park in Eastern Dooars. It is well known for its large population of one horned Indian rhinos. The park is located in the Malbazar subdivision, Lataguri being the nearest town that hosts multiple tourist accommodations. This region has tropical rain forests and grasslands; the surrounding rivers are Murti, Raidak and the famous Jaldhaka. It has its rich flora & fauna including Indian rhinoceros, gaur, Asian elephant, sloth bear, chital, and sambar deer. Not to miss the forest birds like the scarlet minivet, sunbird, Asian paradise suncatcher, spangled drongo, andIndian hornbill.
Samsing- Suntalekhola : Samsing is a small hamlet situated in Central Dooars. It comes under Darjeeling District, West Bengal. At an elevation of 1000m it is an ideal place to enjoy nature, beautiful landscape, tea gardens & forests. Just 5km away from Samsing there is another important place called Suntalekhola. The place is beside a small stream. Suntale in local language means Orange & Khola means mountain stream. It is a picturesque village surrounded by hills & greeneries.
Jhalong- Bindu : Jhalong is situated in Darjeeling district in West Bengal, approx 110 km. away from Siliguri. It is a small mountain village beside Jaldakha River. In Jhalong one can enjoy the beautiful valley of Jaldhaka along with Jaldakha Hydral project. Just a few kilometers away from Jhalong there is Bindu a place at the Indo-Bhutan border. The place is famous for Bindu Dam on Jlaldhaka River.
The Coronation Bridge : The Coronation Bridge is an important bridge on Teesta River, plays a vital role in connecting the district of Darjeeling & Jalpaiguri. It is also known as the Sevoke Bridge. It connects National Highway 31 & 31A. It was named to commemorate the coronation of King George VI and Queen Elizabeth in 1937. The foundation stone of the bridge was laid by John Anderson, the-then Governor of Bengal in 1937 and was completed in 1941 at a cost of Rs 4 lakhs.
History
History
The Dooars region was under Koch dynesty was a part of Kamata Kingdom. Later the kingdom of Bhtan took its possession. In 1865 the British annexed the Dooars region after Bhutan War. At that time the eastern part of Dooars was under Goalpara district of Assam & the western part was officially named as Western Dooars. Later in 1869 it was officially named as Jalpauguri District. In 1949 Dooars was marged with India.
To Reach
Climate
Map
Others
Book a Tour
Fill the form below to send your enquiry. Comments or questions are welcome.